Serious engineering and profits for HEX Equipment owners since 1979
HEX equipment started in 1979 as a family-owned business manufacturing for the medical profession producing UV phototherapy equipment for the treatment of various skin conditions. HEX was the first indoor tanning equipment manufacturer in the United States and created vertical tanning systems that can be found on six continents. HEX added red light wellness equipment, Near Infrared (NIR) photo biomodulation (PBM) therapy and UVC sanitation equipment. Our equipment lines have stood the test of time. We have equipment that has been in operation for decades that is functioning well in the field and consistently producing good profits for our customers.
Today, HEX equipment is still a family-owned business manufacturing lighting equipment. All equipment passes rigorous Quality Control standards. The cornerstones of our business are: Keep it simple, keep it as green as possible, keep it virtually maintenance free and keep providing outstanding customer service.
The Inside Story on HEX
HEX began in 1979, which means we were the first tanning manufacturer in the U.S. and we introduced the world's first standup system. Although HEX has inspired many imitators since then, there is so much more to our pedigree than simply being first.
Before HEX
Prior to creating the HEX concept, we were designing and manufacturing phototherapy equipment for the medical profession. We investigated ways in which our technology and experience would benefit the wider public – and the HEX vertical tanning concept was born.
Two Basic Truths about Tanning
More is less, at least with tanning lamps. "More" usually means more lamps, more watts, more glitz. However, there is an optimum number of lamps to use in a piece of tanning equipment – no more, no less. At best, an overabundance of lamps is a profit drain. At worst, it subjects your clients to heat and discomfort without giving them a better or faster tan. You and your client get less for your money.
Reflectors Need Room to Reflect
A tanning lamp needs enough space to do its job. Reflectors, for instance, need a specific amount of space around them or their efficiency declines. When lamps are too close together, the entire unit generates and retains heat, and lamp life can decrease.
The number and type of lamps in our HEX units is determined by engineering studies that optimize a variety of factors: how to get the most effective performance and efficiency from each lamp, for your client and for your business. Our goal is a beautiful tan for your clients matched by a beautiful bottom line for your business.
Wiring
People look at surfaces when considering a purchase. It's natural. However, look inside the walls of a HEX and you'll see we care deeply about your business. Our workmanship is extraordinary in every detail. All wiring is in conduit, all ballasts are in Neema boxes. There are no exposed wires. Lamps are accessible and easy to replace, saving you time and manpower.
Corners and Edges
All corners and edges are finished. They're curved; they're beveled; they reflect the care with which we design and manufacture.
Reliability
HEX systems we built in 1979 are still earning profits for their owners.
Profitability
No tanning system is more profitable than HEX. Period.
A "Smart" System
We tan each part of the body appropriately with our own HEX Smart Lamps. Be sure to read about our Smart Lamp technology on our Tanning Page.
UL Listed (required in many states), CUL Listed, CSA and CE Compliant
For safety assurance and because we care about being the best.
Style and Amenities that Set HEX Apart
Tanning should be a special experience. That's why we put so much more into our HEX than you'll find in any other stand up system. Our attached dressing room is comfortable, private and convenient. It also allows you to place HEX units in open areas where they attract attention and stimulate business.
That means no construction, no build out.
HEX comes in more than 150 styles – you can order your own custom styles, as well. Talk to us about your décor, and we'll help you choose a HEX style uniquely suited to your business.
Cool Performance
A powerful, quiet and efficient cooling system creates a pleasant circulation of air that makes for a very comfortable tanning session.
A Cozy Dressing Room
HEX pampers your clients with a convenient seat for dressing and applying lotions, thoughtfully placed fixtures to hold clothing, shelving for their personal items, attractive, flattering lighting, a high-quality beveled mirror for checking appearance and pleasing upscale fixtures and trim.
Virtually No Maintenance
Except for the occasional relamping, HEX requires virtually no attention from you or your employees.
Do You Dream in Color? We Do – More Than 150 of Them
If you have your own dreamy ideas for matching HEX to your business décor, let us know. We're always happy to fulfill dreams.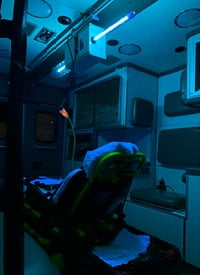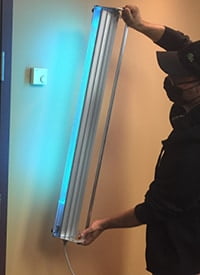 • Mobile UVC room sanitation equipment
• UVC wands for quick touchpoint surface sanitation
• Sanitation boxes
• Tripod lights to sanitize small rooms
• Vehicle UVC systems
• UVC for HVAC systems
• Customized UVC solutions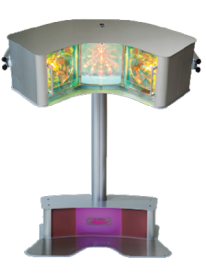 Near Infrared Light (NIR) Therapy
• Science based deepest and widest penetration
• Patented for inflammation reduction and pain management
• Non-invasive, no medication pain relief
• Hands free
• Will help heal bed sores, torn ligaments, bruising, & Parkinson's
• Works on bed ridden or immobile patients
• When you decrease inflammation you increase circulation
Tanning Equipment
• Tanning Booths and Beds
• Custom Made – Hand crafted one at a time
• Remote Timer
• 8 to 10 minute sessions
• UL and CUL listed
• CSA and CE Compliant
• Very best designed and engineered tanning systems in the industry
• Made in the U.S.A.
What Our Clients Have To Say…
Jannice Lamm, CTRS, NHA
Administrator of Oakview Medical Care Facility
"We use the light as an extra measure to clean rooms or offices after a resident or staff member has been exposed or contracted COVID. It adds extra piece of mind in a time of uncertainty. "
Lisa A. Hoig
Director of Transportation ~ Meals on Wheels ~ Home Chore
Friendship Centers of Emmet County
"Council on Aging"
"The lights are working great; we're sanitizing buses, office spaces, office equipment and items in our durable medical equipment loan closet as much as possible. We also used the lights to sanitize our KN-95 masks when they were hard to come by and we needed to get as much use as we safely could."
Alissa Haynak
Administrator at Isabella County Medical Care Facility in Mt. Pleasant, MI
"HEX's sanitizing equipment was crucial in stopping the Covid-19 spread in our building. The equipment is easy to use and sanitizes effectively in a very short period of time." She went on to say how though it was a desperate time for them, she was very thankful Linda and her team built the products they needed in the beginning of the Covid-19 pandemic to meet their needs."
Emergent Health Partners
Brian Walls
VP of South Central Operations & MTS
Medical Hazmat/Tech Rescue Coordinator
"HEX UVC light is convenient and very easy to operate. We really enjoyed having the remote for safety and the knowledge that our vehicles and equipment were decontaminated during the pandemic. We have adopted this piece of equipment into our daily operations to continue to provide a clean and safe environment for our EMT's and Paramedics to work in."
"I am a Vet and was being treated at the VA hospital for ulcerated wounds on my ankle which were caused by a necessary medication.  The VA referred me to a podiatry specialist.  I was off work for 3 months for this injury when I heard about the HEX NIR system.  My ulcerated wound has been healing (shrinking) at a rate of .6 every two weeks.  After 2 weeks using the HEX RX-1 light (6 sessions), my ulcerated wound healed .3 top to bottom and 1.2 left to right- Doc said results were fantastic – keep doing what you're doing.  I was cleared for work with 3 ½ more weeks of treatment."
"The heat of your light brings me a lot of wellness. For my part, I believe in this system,  I felt a great feeling of relaxation after each treatment.  My shoulder pain disappeared as fast as it appeared.  I have confidence in your machine.  63% reduction in shoulder pain after seven visits – pain level went from an 8 to a 3."
"For me it has been my second week of treatments – The pain in my thigh disappeared.  It feels really good.  50% reduction in right thigh pain after 6 visits – pain level went from a 9 to a 4."
"The penetrating warmth relaxation and stress removing feeling was almost instant.  I am able to recognize the quality of such a treatment and appreciate them even in a few sessions. 50% reduction in the right shoulder pain after 6 visits – pain level went from 8 to 4 after 6 visits."
"I want to tell you my personal story with HEX NIR, just before his 8th birthday my son had a bad case of pink eye, then back pain and urinary tract pain, then jaw and ear pain, after that one foot swelled up and was a 10 out of 10 on the pain scale, his hips were painful, one wrist, and then both knees seemingly overnight became the size of grapefruit.
What started as reactive arthritis became chronic as the weeks went on, his pain was 10 out of 10 for days at a time, many days I would have to carry him or move him with the use of as wheelchair. The HEX NIR helped my son a ton, first and foremost it would take away his pain. At first the pain would leave for the time he was under the light and a little bit afterwards, that little bit afterwards grew and grew as time went on. A few times in the first couple months of this ordeal he was unable to use NIR due to being out of town, there was a noticeable difference in how he moved after missing it for a few days, he would ask almost everyday if he could do NIR, it made him feel that much better helped his pain and movement that much."
"Due to a sports injury, I have injured several disks in my neck and spine. Because of my age, surgery is not an option, and I was guided toward pain management. I started researching alternative medicine as living on constant neck pain is not ideal. Red light was coming up all over the place when researching pain management. I started my RX-1 treatments and within 6 uses I started noticing a huge difference. My swelling went down, I had better range of motion and my pain began getting less and less. I started feeling like my old self and I am never going back."
"Contraindication: This product is contraindicated for use on persons under the age of 18 years." "Contraindication: This product must not be used if skin lesions or open wounds are present." "Warning: This product should not be used on individuals who have had skin cancer or have a family history of skin cancer." Warning: persons repeatedly exposed to UV radiation should be regularly evaluated for skin cancer."